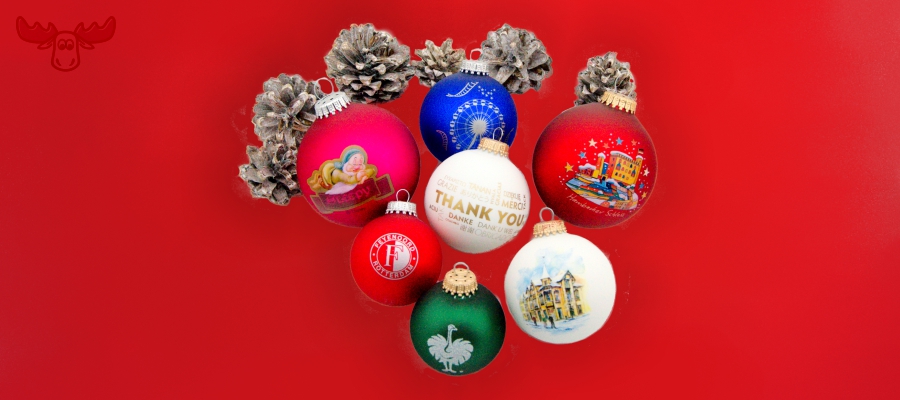 Willkommen bei xmaskom - Weihnachtsgeschenke für Kunden & Weihnachtsgeschenke für Mitarbeiter!

Wer die Firmenweihnachtsfeier organisiert, muss sich auch mit der passenden Dekoration beschäftigen. Sicher - das mag nicht der erste Punkt auf Ihrer Checkliste für die Firmen-Weihnachtsfeier sein. Trotzdem trägt die passende Weihnachtsdekoration ganz wesentlich zur Atmosphäre und damit zum Gelingen Ihrer Betriebsweihnachtsfeier bei.
Wir haben Ihnen die sechs wichtigsten Punkte zum Thema Weihnachtsfeier-Dekoration zusammengetragen. Damit wird Ihre Weihnachtsfeier ein voller Erfolg. Versprochen!
Zur Organisation einer Firmen-Weihnachtsfeier gehört zuallererst ein Konzept. Dieses garantiert einen reibungslosen Ablauf. Damit die Weihnachtsfeier am Ende nicht an der Dekoration scheitert, geben Sie der Deko einen eigenen Punkt in Ihrem Konzept. Mit dem Konzept behalten Sie die Fäden in der Hand und können Aufgaben an die Kollegen verteilen.

1. Das Motto Ihrer Firmen-Weihnachtsfeier = Ausgangspunkt auch für die Deko
Letztlich gehört alles irgendwie zur Dekoration Ihrer Weihnachtsfeier. Das fängt bei der Gestaltung der Einladungen an, reicht über die Ausgestaltung der Location und das Arrangements des Büfetts bis hin zum Anzug Ihres Chefs.
Deshalb entscheiden Sie bitte schon frühzeitig, welches Motto Ihre Weihnachtsfeier haben soll. Hier ein paar Motto-Ideen für Ihre Betriebsweihnachtfeier:
klassische Weihnachtfeier,
winterliche Firmenfeier,
historische Weihnachten,
maritime Weihnachtsparty,
Weihnachtsfeier on the Beach,
"Heavy Metal"-Weihnachten,
Weihnachtsfeier im Grusellook.
Die meisten Unternehmen werden sich für die klassische Weihnachtsfeier entscheiden. Neben den üblichen Weihnachtssymbolen kommen hier die klassische Weihnachtsfarben Grün, Rot und Gold zum Einsatz.
Wer sich für ein Wintermotto entscheidet, kommt um die Farbe Weiß natürlich nicht herum. Wie wäre es in diesem Falle mit einer Ladung künstlichem Eis oder Schnee für die Dekoration? Soll's maritim werden, gehören kleine Boote, Fische und Netze zur Deko - on the Beach muss eine Palme her. Lassen Sie Ihrer Kreativität freien Lauf!

2. Suchen Sie frühzeitig eine Location für Ihre Betriebsweihnachtsfeier
Natürlich müssen Motto und Dekoration zur gewählten Location passen. Deshalb hier der wichtigste Tipp: Suchen Sie frühzeitig die passende Eventlocation, die zu Ihrer Idee passt! Wenn Sie entschieden haben, in welchem Stil Sie Ihre Weihnachtsfeier organisieren wollen, dann haben Sie eine Richtung für die Location-Suche.
Das kann ein klassisches Ambiente wie der Veranstaltungsraum eines Hotels sein, ein außergewöhnliches wie das einer Strandbar oder aber ein Country-Club. Wichtig ist, dass Sie den einmal gewählten Stil in allen Punkten durchhalten - eben bis hin zur Dekoration für den Party-Ort.
3. Die Beleuchtung - Der heimliche Pluspunkt Ihrer Weihnachtsfeier
Das mag Ihnen übertrieben erscheinen, aber die richtige Beleuchtung sorgt oft für das letzte Quäntchen AHA-Effekt auf Ihrer Weihnachtsfeier. Denn das Licht ist entscheidend für die Stimmung und die Atmosphäre während des Firmenevents.
Ideal ist eine Beleuchtung, die sich situationsbezogen steuern lässt. Sie benötigen für das Essen und die Rede des Chefs eine andere, viel hellere Beleuchtung als für den gemütlichen Teil und die Diskonacht danach. Fragen Sie in der gebuchten Location nach Ausleuchtungsmöglichkeiten und lassen Sie Lichttechnik notfalls nachrüsten.
Auf die Tische gehören zur Weihnachtsfeier natürlich Kerzen. Setzen Sie deshalb für die Tischdekoration auf jeden Fall auf Kerzen. Alternativ kommen hierfür auch feine Lichtspiele mit Teelichtern infrage - so verbinden Sie die heimelige Atmosphäre des Kerzenscheins mit wunderbar verspielter Dekoration.
4. Ihre Firmen-Weihnacht in den passenden Farben
Bei der Auswahl der Farben kann es kreativ werden! Wem die Klassiker Grün, Weiß, Rot, Gold und Silber zu langweilig sind - jede andere Farbkombination ist genauso gut, wenn die Dekorationselemente darauf abgestimmt sind. So gestalten Sie beispielsweise eine "gruslige" Weihnachtsparty vor allem in Schwarz, Weiß (und Rot)!
Auch möglich: Die gesamte Firmen-Weihnachtsfeier in den Farben Ihres Unternehmens gestalten! Sie können sowohl die Dekorationselemente als auch die Präsente für Ihre Mitarbeiter personalisieren lassen, wenn Sie früh genug mit der Planung beginnen.
5. Die passenden Weihnachtssymbole – perfekte Dekorationselemente
Die wichtigsten Symbole zum Weihnachtsfest kennt jeder:
Verwenden Sie diese Symbole für Ihre Dekoration, wenn Sie sich für die klassische Variante entschieden haben. In allen anderen Fällen müssen Sie sich etwas vergleichbar Passendes einfallen lassen. Bedenken Sie hierbei, dass weniger durchaus mehr sein kann!

6. Die Tischdekoration für Ihre betriebliche Weihnachtsfeier
Kommen wir zum wichtigsten Punkt einer jeden Weihnachtsfeier: dem Weihnachtsessen! Lecker muss es sein, satt soll es machen und einen weihnachtlichen Touch haben. Für letzteres können eine tolle Tischdekoration und die passende Dekoration des Weihnachtsbüfetts sorgen.
Beides sollte mit Ihrem Weihnachtsfeier-Motto und der gewählten Weihnachtssymbolik zusammenpassen. Mit natürlichen Varianten wie Tannengrün, Nüssen oder Strohsternen machen Sie da sicher nichts verkehrt. Und auch dekorative Tischsets verschaffen einer Weihnachtsfeier etwas extra-heimeliges.
Fazit: Die Dekoration gehört ganz groß auf Ihre Weihnachtsfeier-Orgaliste
Alles, was zur Dekoration Ihrer Firmen-Weihnachtsfeier gehört, sollten Sie frühzeitig planen. Der Aufwand hierfür darf nicht unterschätzt werden. Arbeiten Sie diesen Punkt deshalb fest in Ihr Konzept und die Weihnachtsfeier-Planung ein.
So haben Sie von Anfang an die Deko "auf dem Schirm", wenn es um Motto-Suche, Farbgebung, Location-Auswahl und das Beleuchtungskonzept geht.
Noch ein letzter Tipp für organisationsgeplagte Weihnachtsfeier-Feen: Sprechen Sie alle Ideen mit Kollegen durch. So werden Entscheidungen auf mehrere Schultern verteilt und keiner ist alleine Schuld, wenn ein Teil der Planung nicht wie vorgesehen gelingt ;-)

Noch mehr Tipps und Tricks für Weihnachts-Orgas